My research work is focused on Distributed Virtual Reality (DVR) and
more specifically MMVEs (Massively Multiuser Virtual Environments) and MMOGs (Massively Multiuser Online Games).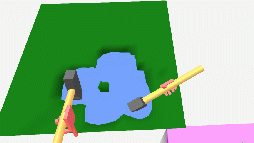 I am co-author of the 3rd volume of the following book (in french) which presents Virtual Reality:
Traité de la réalité virtuelle,
P. Fuchs, G. Moreau et 72 auteurs, 4 volumes,
Les Presses de l'Ecole des Mines de Paris, www.ensmp.fr/Presses, mars 2006.

This book is freely available for students here.

I'm also working on the High Level Architecture. Here is some information (in french).
In french : Présentation à l'ASTI.
Of course I'm also interested in other VR systems.
Here you can find some interesting links: